Bag Breaking for Dusty Products
Extremely clean work: Our special suction device enables dust-free emptying of your bags. No loss, no mess!
With the Cematic system you can empty bags with powdery, lumpy or granular contents. The bags or bales can weigh up to 80 kilograms. The material of the bags is irrelevant. Depending on the required capacity you can choose between three differently sized systems with different performance levels. Starting from 250 and 600, the Cematic 1200 empties up to 1,200 bags per hour. And since our systems are also suited for continuous operation, you can specifically increase the efficiency of your production – for both large and small quantities. Even under extreme conditions, Telschig systems operate consistently and reliably, making them suitable for numerous industries and a wide variety of locations. Our experienced engineering team will also develop the perfect and customized bag emptying solution for you.
Basic Equipment
Bag feeding
Opening and emptying
Dedusting
Empty bag compaction
Electric control
Bag dosing
Bag counting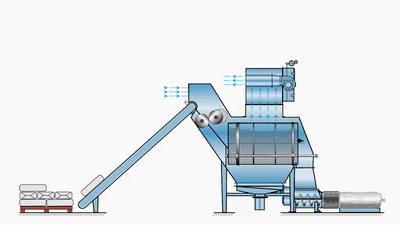 Your Advantages with
Cematic Plants:
Physical relief for your employees
Increase efficiency
Stabilize processes
Reduce production costs
Safe processing of dangerous and hazardous products
Increase independence from raw material suppliers
References
Are you interested in our bag splitters? Please have a closer look at some of our references.
Contact
Find out more about our extensive range of services! Get an instant call back from our sales engineers.